Are you looking for free or cheap Portland activities? Here are some great things to do this weekend July 9th through the 11th that offer inexpensive outdoor entertainment.
Cheap! Sunflower Field at West Union Gardens
One of the best kept secrets of cheap activities to do in Portland is the West Union Gardens sunflower field is now in bloom for the 2021 season.
West Union Gardens will have three sunflower field blooms this year. The first field of sunflowers will open on July 7 and last through the month. The next two blooms will happen in August and September.
Tickets are required. West Union Gardens will be offering three ticket time sessions each day: morning, afternoon and golden hour. This is the least expensive sunflower field close to Portland. At only $5 for an individual ticket, its a great way to spend a day outdoors for cheap!
Here are ticket prices for the sunflower field at West Union Gardens:
Individual tickets: $5
Group tickets (up to 8 people): $20
Individual season passes: $40
West Union Gardens is located at 7775 NW Cornelius Pass Rd. in Hillsboro.
CLICK HERE TO VISIT THEIR PAGE AND ORDER TICKETS
---
Cheap! Oaks Park Roller Rink: Skating for $10
This next cheap activity in Portland is the most iconic on our list.
The Oaks Park Roller Rink offers year-round fun for Portlanders with skating available seven days a week. A three-hour time slot can be booked online in advance of your visit.
Times:
Tuesday-Thursday: 12-3, 3:30-6:30, and 7-9:30 p.m.
Friday-Saturday: 12-3, 3:30-6:30, and 7-10:30 p.m.
Sunday: 12-3, 3:30-6:30, and 7-9:30 p.m.
Food and beverages can be purchased at Rick's Roller Rink Café during your session.
Admission is $10 and includes conventional skate rental. That's about $3 per hour. Oaks Park recommends purchasing tickets online in advance. Tickets are non-refundable. 
You are also welcome to bring your own skates. They will be subject to inspection by Oaks Park staff in order to protect the skating rink floors.
Oaks Amusement Park is located at 7805 SE Oaks Park Way in Portland. Parking is free. To book your skating session, visit the Oaks Park website.
---
Cheap! 2021 Helvetia Lavender Festival
Helvetia Lavender Farm is a short drive from Portland. With over 60 different varieties of lavender, the best time to visit is during the festival when plants are at their peak bloom.
Activities at the festival include cutting your own lavender, watching lavender distillation workshops, wreath demonstrations, kids stations, perusing local vendors offering food and drink, visiting local artisans booths and listening to live music. 
The farm will provide you with baskets, scissors and twist ties if you would like to cut and purchase lavender bundles. The cost is $8 per bundle for u-cut or you can buy a bundle of pre-cut lavender for $12. 
Tickets must be purchased online in advance. No tickets will be sold at the event gate. You'll need to bring a printed copy or show your reservation on your phone when you arrive at the parking gate. Parking is free.
Price: $5-$10 per person, depending on the time of your visit. Kids up to age 10 can attend for free.
CLICK HERE FOR MORE INFO AND TICKETS
---
Free! Portland's Rose Gardens Blooming
Stop and smell the roses at these four Portland rose gardens. While the ideal time to visit is June, there are still plenty of blooms to see!
Portland International Rose Test Garden
This premier Portland rose garden is truly magical. Sitting atop the city at Washington Park, you'll find this beautifully maintained garden complete with an amphitheater, fountain, picnic tables and thousands of rose blooms. The test garden opened in 1917 and has drawn worldwide attention for its gorgeous roses.
Free public tours are offered daily at 1 p.m. from Memorial Day weekend through Labor Day weekend.
The Portland International Rose Test Garden is located at 400 SW Kingston Ave.
---
Peninsula Park Rose Garden
Right in the heart of North Portland this beautiful garden packs a big punch in a small area. Using traditional Frnech design, this garden draws you into the center with a fountain lined with strolling roses and hedges.
This garden is Portland's oldest public rose garden, opening in 1913 and is located at N Albina St. and Ainsworth St.
---
Ladd's Addition Rose Gardens
Once a 126-acre farm on the east side of Portland, Ladd's Addition is now one of Portland's premier neighborhoods. It was designed as a diagonal street system surrounding a central park, known as Ladd Circle Park, and also features four diamond-shaped rose gardens located on the points of a compass. It is an excellent walk from one point to the next through the well kept century old homes..
The gardens feature more than 3,000 roses of sixty varieties that were popular in the early 20th century.
Ladd Circle Park is located at SE 16th Ave. and Harrison St.
---
Pittock Mansion Gardens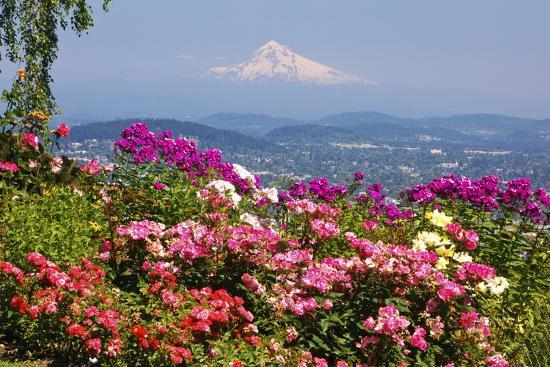 Like all the rose gardens, Pittock Mansion on is free to walk around. The entire grounds are free and open to the public. The roses in the Pittock Mansion Garden have one of the most incredible back drops in the whole city—the Pittock Mansion. You'll also get to take in one of the best views in town overlooking the city.
The grounds can be reached by parking in the visitor parking lot. The Pittock Mansion is located at 3229 NW Pittock Dr.
If you'd like to learn more about the property's roses, perennials, flowering trees and shrubs as well as native plants and evergreen conifers, Oregon State University master gardeners offer free walking tours from 11 a.m. to 2 p.m.on the second and fourth Saturdays of the month, June through September.
---